As I sit here on our breezy front porch, I realized I've yet to share where we came up with the name Highland House.
We bought this beauty with the full intention of sharing it with others. As a couple sans children, we really don't need five bedrooms all to ourselves. Originally, I thought it would be fun to name it something like... the Whipporwill Inn.
Very cute, I know.
But as I reflected, it became clear to me, I don't want to be an Inn. An Inn or B&B implies anyone can just walk up to our house and ask for a room. And we live here. And work here. And have no interest in randos walking up to our front door. Instead, I decided it was just a house. A house we share with those who need a place to stay, who are open to appreciating the space as much as we do.
That may mean we open our house to wedding parties getting married down the road at The Pearl. Or maybe we have some lovely quilters looking for a place to stay while they explore Quilt Town USA. Whatever the reason, we decided early on, we were a house and not an Inn.
Then, we considered naming it after a jewel to mimic The Pearl (owned by my in-laws). Saphire house, emerald house, all these different jewels were thrown around (not literally, man I wish), and a new problem arose. If we named it a jewel, we were then locked into a color. And I truly had no idea at the time what color this house wanted to be. We knew it needed a fresh coat of paint, but she hadn't had time to tell us what color she was wanting to be.
Then we discussed names after nature. Our favorite flowers, trees, and birds were thrown around. My favorite flower is a peony. BUZZER SOUND not a great name for a house. Cole proposed his favorite bird, the Killdeer. EVEN LOUDER BUZZER SOUND.
All the things we loved had ugly or difficult names.
Finally, I thought I'd really landed on something when I suggested Crawford House. Simple. Elegant. But then, I realized a unique problem we'd have in a small town. 1,800 people in this small town to be exact.
In a small town, every house is named after the person(s) who most notably or recently lived there. For example, this house has been called the Zehender house for as long as I've known it, even though they didn't own it last. When people ask what house we bought, the answer is always, "The old Zehender house."
Side note, even the gas station is not known by its proper name. I spent a very annoying afternoon trying to find the FedEx drop off at "The Conoco" station, only to discover much later, "The Conoco" station doesn't exist anymore. For many years, it has been a Gulf station. Not a Conoco. Not a shred of Conoco branding exists, and yet. "The Cococo". Sigh.
Throughout town, if you ask people where they live, they give you the name of the house based on one of its previous residents. "Oh that's the Dickey house," or "The house over by the Smith house" never an address, street, or physical quality. This meant Cole's parents already owned the Crawford House. They were the Crawfords first. We would really disrupt the flow of the town by throwing a second Crawford house into the mix.
So again, back to the drawing board.
The weekend before we closed on the house, we visited the local library to *hopefully* find some history on the house. Who originally built it and for what purpose. There are a few houses in town that have super fun histories and we were hoping we'd get lucky. One of our family friends owns a house that was turned into a hospital during the Civil War. Another owns a house that was built by a sister who was competing to build a bigger house than her twin sister, dubbing both houses "the twins."
We didn't find anything nearly that fun, but we did find that a few years ago, some locals put together a really fantastic book detailing the history of Hamilton.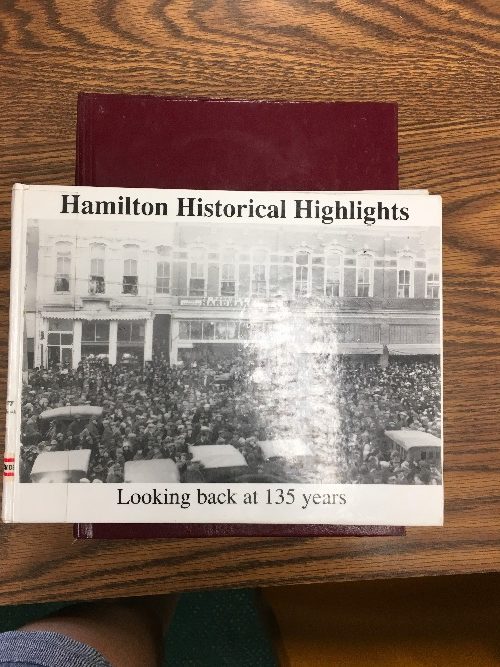 In this book, we found our first clue, a picture of our new house, two names, and a date!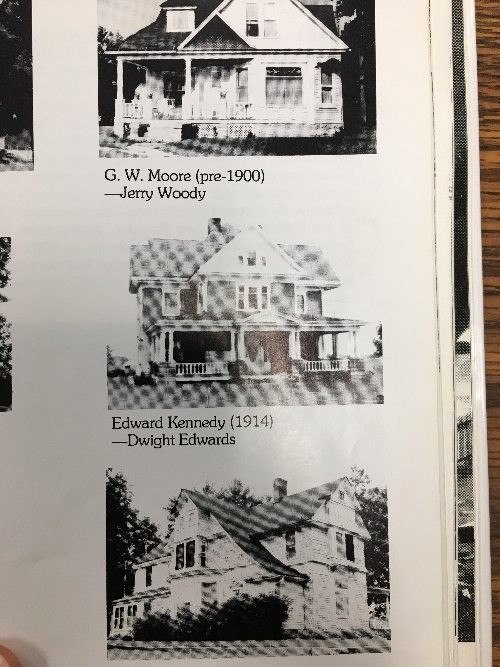 The first name denoted the original owners, the date was the year it was built, and the second name was the builder. And the hunt was on!
Who were the Edwards? What did they do? How did they come into enough money to build a house?
We dug into more and more records, including deeds, marriage licenses, property lines, and obituaries. What did we find?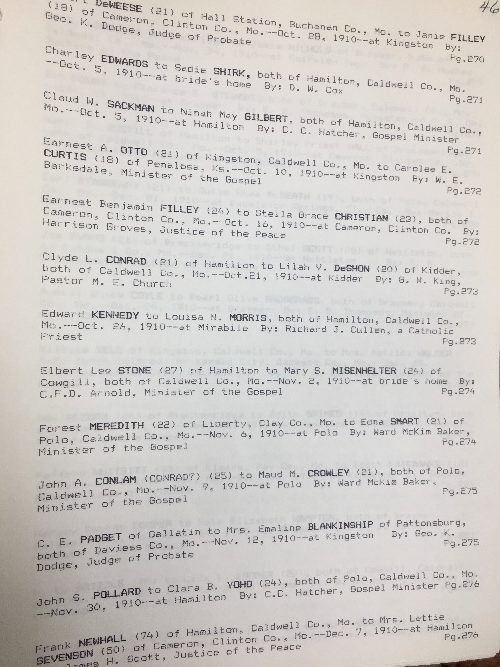 Absolutely nothing of interest. Louisa and Edward Kennedy were incredibly quiet people. We couldn't find anything aside from their marriage license and Louisa's obituary. It doesn't look like they even had kids.
Sigh.
So while our house wasn't full of intrigue, Cole did notice their once was a LARGE mansion just across the road from ours, many many moons ago, called the Highland House. It had something like 27 rooms and quite the view because our homes are built on a large hill, e.g. high land.
And just like that, we decided we loved Highland House. It is in part to honor the beautiful house that once was, as well as what makes the current house so perfect for us.
Because it's been built on high land, we have the most lovely breeze across our front porch, which I am currently enjoying, and we don't really have to worry about flooding. The whole concept of building on high land is to prepare for the future, to consider where we sink our roots, and to expect hard times.
This house and our life together have been built on high lands, both to enjoy the view and to protect the things we love from the inevitable. Because life is about being present in the beauty while expecting hardships to come our way.
Alas, this is how we landed on Highland House. It took us a while to get to the name, but now it fits so right.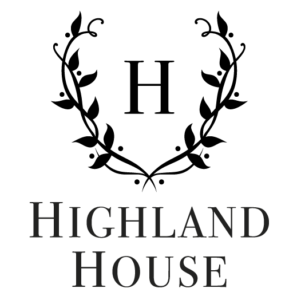 What do you think? Does your house have a name?